Gallery Events
ArtHaus66 Gallery Newsletter Volume 7
JUAN PABLO VILLALPANDO: PENCIL ME IN...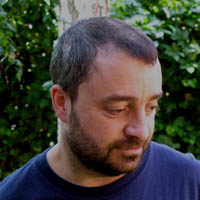 When an artist is as prolific as Juan Pablo Villalpando it sometimes happens that the work starts to drift away from the original idea in a trickle of disparate images. It becomes a gimmick.
Remaining true to one's narrative and not digressing away from the initial intention is, in fact, quite a difficult proposition. Exceptionally, Villalpando stays the course, so to speak, and creates a well linked and coherent oeuvre.
Whether in his monochrome lithographs or in his airy paintings, his personal style invariably shines through. Linear drawings and spacious compositions define his approach to depicting complicated scenarios. His stories seem to be unfolding. They allow for multiple outcomes and singular twists of fate.
Villalpando observes, listens, mulls over the information and condenses the result in a succinct image of unmitigated beauty. He demonstrates the importance of being sincere and unadorned. There lies Juan Pablo Villalpando's rare talent.
Juan Pablo Villalpando has exhibited his work around the world. He is a professor of printmaking and design at the Escuela n° 10 in Madrid.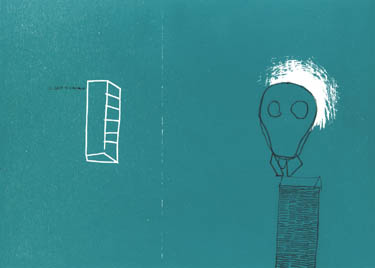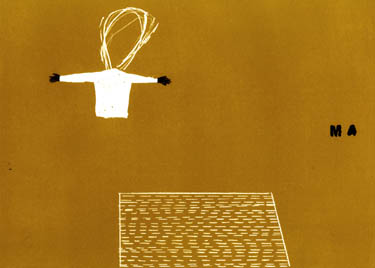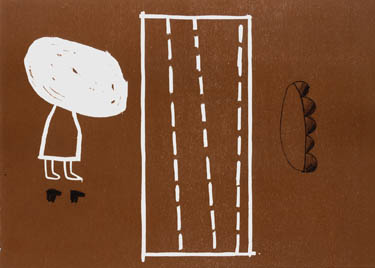 View More Artwork by Juan Pablo Villalpando >>
MASTERS: COLLAGE PUBLISHED BY LARK BOOKS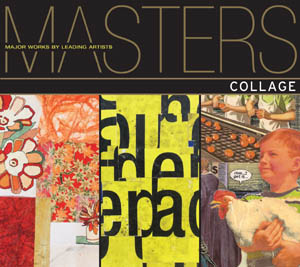 Masters: Collage, has just been published by Lark books, and Randel Plowman, 47-year-old collage artist, is its curator.
It is a sumptuous feast of extremely varied approaches to the medium. Each master is featured in an eight-page spread, and the range is from serious to light-hearted.
In the foreword, Randel says that a school assignment "was the beginning of my enduring love affair with the wonderfully inclusive medium of collage – a genre that embraces just about every conceivable material and creative technique." Plowman's accompanying text gives life and context to the art displayed in impressive photographs.
To purchase the book visit:
http://www.amazon.com/gp/product/1600591086?ie=UTF8&tag=arthaus66-20&linkCode=as2&camp=1789&creative=9325&creativeASIN=1600591086
ArtHaus66 Gallery Newsletter Volume 6
HERE COMES THE SUN...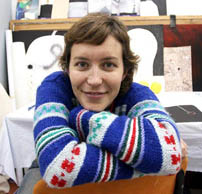 While the seasons are all jumbled up into an unrecognizable roller coaster of hail, wind, heat and the occasional rain shower, the summer mood has been hampered for many by the monstrous BP oil spill. After all, nothing says summer vacation like giant balls of black tar or dolphin carcasses washing up ashore.
Darkness in the form of an impenetrable expanse of petroleum continues to slither towards the coast of the Gulf of Mexico. Birds choke on the stuff trying to free themselves from the sticky mess. Fish float belly up to the surface and oil executives have ahead of them the impossible task of justifying their decisions and their paychecks…Ironically, only the latter have a decent chance of survival…... READ MORE


EVA POYATO: OF BIRDS AND LEANING HOUSES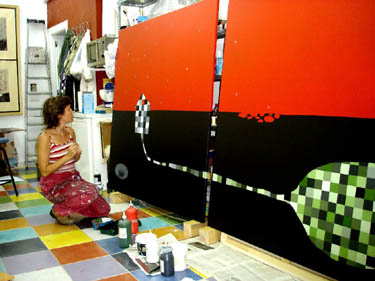 Eva Poyato's biography (at least the public one) is as minimal as her prints. A date and a place of birth is as much information as anyone is likely to find about her. Yet, her artwork speaks volumes about her personality, her thoughts and her dreams.
A multi talented artist by nature and printer by choice, Poyato has developed a body of work that focuses on austere landscapes and solitary objects.Over the course of her career, she has made incursions in almost every possible discipline: sculpture, painting, printmaking and even illustration.
She is the co-founder of the printing studio "La Persiana Naranja" in the mediterranean city of Murcia where she lives and works. This is an area blessed with a mild climate all year round, where sunshine is a daily treat and gardens grow lush. It is very surprising that her surroundings are such a complete opposite to the barren landscapes in her artwork. However, understanding this apparent contradiction is, in fact, appreciating the depth of her work and its significance.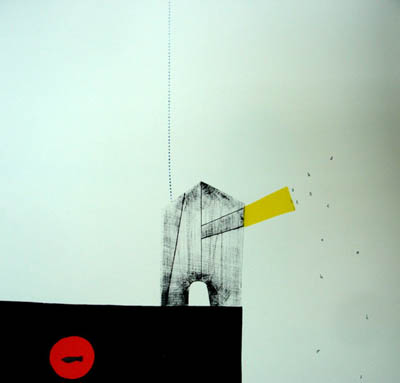 In her series titled "In No-Man's Land", checkered houses stand against a low and desolate horizon. Tall and silent, the houses stand side by side or tilt ever so slightly perhaps burdened by invisible misfortunes and the sheer weight of sadness. In "Lightning" two houses recoil having been hit by a silver, zig-zagging bolt of lightning while in "The Skylight" a powerful, hopeful ray of sun enters a house to shed light on everything within it.
The absence of humans (only implied by the existence of the houses) speaks of disconnection and loneliness. The outside, the common spaces, are unwelcoming and inhospitable. Perhaps, humans have succeeded in creating too hazardous of an environment for themselves and are now relegated to their narrow dwellings. A man-made, self-inflicted punishment...
Her work is not only elegant and authentic, but it also comes with a dose of honesty quite infrequent in today's art world. Eva Poyato is a young artist whose work transcends trends and repudiates gimmicks.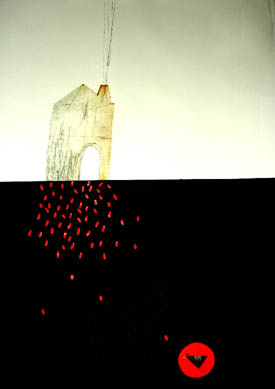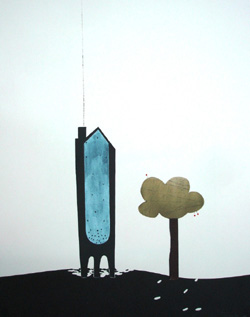 View More Artwork by Eva Poyato >>
WHEN THE POND GETS SMALLER....THE FISH START TO BITE...EACH OTHER
The crisis has strangulated the art world just as much as it has damaged every other aspect of the economy. Sales have plummeted and art spaces have sunk deep into debt. The luckier ones are still on life support, but the vast majority has undergone a silent decline and painful demise. They are casualties of a situation in which discretionary income is a thing of the past.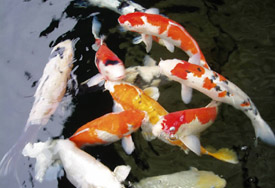 For most, art purchases are considered to be optional and superfluous in times like these. Money has been diverted to other uses. Even those who used to acquire art works, are no longer willing to consider parting with their cash so easily. You can hear their mantra in every gallery in America: "I love the work"...followed by a prolonged pause and then...nothing. The painful truth is that, at least, these are the people who make it to the gallery. Many a former collector has become reluctant to even go to openings and receptions out of concerned that he or she might be put on the spot by an overly eager dealer.
The ensuing tension is easily felt at any of these events. Everyone knows that everyone else (artists, gallery owners and patrons) is hurting bad. It is the big, ugly elephant in the room. Nobody acknowledges the pain and so everyone walks away at the end of the day no wiser or better-off than they were before. A gallery space full of sleepwalkers is an excruciating thing to watch.
The worst side effect that I have seen from this pitiable state of affairs is that relationships among those in the art business have become uptight and difficult. Artists are unhappy with the lack of sales and so are galleries. The artists point the finger at the dealers while they, in turn, hold collectors accountable for the negative cash flow. Remaining in the black has turned into a laborious and excruciating challenge. Convincing the cynics of the rewards of buying art is ludicrous at best.
So as the water drains ever so slowly from the small pond that is the art scene, fish of all sizes and colors are left gasping for a sale. The smaller fish (emerging artists, small galleries) die first. The larger fish (well established artists and galleries) are able to lay dormant for a while longer, hoping for that rain that will restore the pond to its prior vibrant state. In the meantime, associations turn sour. Connections are severed. It's a big fish devours small fish cruel world.

IN OUR NEXT ISSUE...
...we'll have the pleasure to introduce an artist with an intriguing and succinct style: Juan Pablo Villalpando. His prints, drawings and artist books are full of melancholy and evocative images that derive from a keen sensibility and an uncanny ability to mesh the most disparate of recollections. They truly are captivating...
ArtHaus66 Gallery Newsletter Volume 5
THE LAST TIME I MAKE PLANS
Those ashes that darkened the skies over Europe ironically brought to light a new awareness. With an abrupt and unexpected hiccup, the Icelandic volcano with the unintelligible name became the foe of millions and, in the process, many realized that we are quite an insignificant bunch.
While we were poised to go on with our plans as if nothing at all could stop us, the world was bursting open in anger. Although we were able to make arrangements to accommodate for this untimely gesture, most importantly, the lesson remained…we are obviously not in control.
I'd ask everyone to express a little bit of appreciation for those who, in the midst of the pandemonium take a moment to dream up and create artwork. It might seem to many just a hopeless endeavor or a misguided use of energy.We've all heard that argument before... READ MORE


THE ENDLESS SEA: ANDRES DELGADO'S LANDSCAPES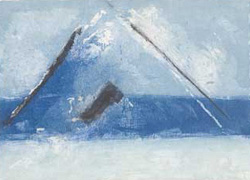 With a pleasant and familiar motion the wave curls onto itself and dies on the shore. A few seconds later, the process repeats itself. Again and again the dance goes on ad infinitum.
Andres Delgado grew up bound by the ocean in the island of Tenerife off the African coast.Though now living and working in Madrid, those formative years still inform his themes and his style. Above all, through his paintings we come to see that an island is very much a paradox: it invites introspection but also guides your thoughts towards the horizon in pursuit of other lands and other people.
This duality is reflected in the subject matters that time and again reappear in Delgado's work: the vast, undulating waters of the Atlantic, the dwellings of coastal towns, the omnipresent blue sky…but also the thirsty fields of Castilla, his adopted land.
With an extraordinary economy of gesture, Delgado implies the frothy crest of a wave or the jagged edges of a stone wall overrun with green vines. His paintings are the expression of a single moment in time that is not to return with the same light, the same intensity.
Acrylic paint is the vehicle that Delgado uses to depict these fleeting landscapes. He employs strong brushstrokes that deposit pigments over the canvas sometimes as light washes and others as thick impasto. Delgado can carve the likeness of a golden wheat field swept by the wind with austerity and passion. Decisive in his technique, his compelling abstraction opens a window to a world of subtle color and line.
View More by Andres Delgado >>


BUDGET BLUES - ART COLLECTING ON A DIME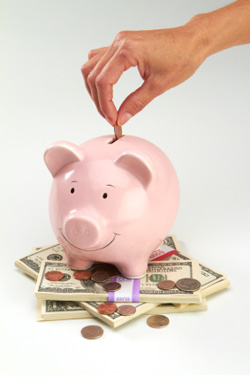 What does art collecting looks like in times of economic downturn? To be perfectly honest, it looks quite lifeless. Nobody can deny that the ability to put aside money for discretionary purchases such as artwork has really gone the way of the Dodo bird. It is, no pun intended, not a pretty picture.
Nonetheless, there are things that we can all do to continue or perhaps start collecting without breaking the bank. Artists are offering highly collectible artwork at unprecedented low prices. They have also seen a decrease in their sales and have repositioned themselves to accommodate those collectors with shrinking funds.
Search high and low for the kind of work that catches your eye and your heart. Use the Internet to locate galleries who will work with you to meet your needs. Gallery owners and dealers will find that special piece for you and will help you purchase it with payment plans, layaway options or on the spot discounts. READ MORE
ArtHaus66 Gallery Newsletter Volume 4
WHERE DOES ART COME FROM?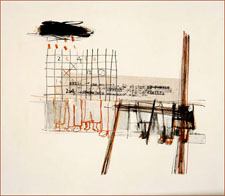 This is indeed a vast question to begin such modest newsletter with. I am sure that there are countless theories and views that would attempt to answer this mystery. I am also sure that every artist has his or her own opinion about this subject and I deem every one of them to be of merit.
From time to time certain books or stories make such questions resurface and that has been the case with a little, unpretentious book that I recently read: Susan Goldman Rubin's compelling account of the story of Friedl Dicker-Brandeis and the children in Terezin in her book Fireflies in the Dark. READ MORE


CITY IN THE SKY: THE WORK OF SUSANA MURIAS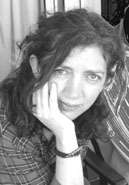 In Susana Murias' prints and paintings a city wakes up from a night of fractured sleep. The morning light creeps up the sides of tall buildings. Windows glow sending reflecting shards of light in every direction.
Susana Murias' city, a combination of actual locations and hazy memories, could be any city. Through her eyes we tour every corner, every house, every rooftop of her symbolic city. It's a visit that focuses on the mundane and more intimate aspects of daily life while transcending the mere recording of sites or events. Murias helps us compose an impression of a metropolis in which people tread lightly, leaving behind reminders of their transient presence.
Some images show the mere insinuation of a person waking away or looking up into the sky. What usually remains in the frame is the effect of that individual on the urban environment. We see graffiti, typed text, billowing smoke, hopscotch markings on the ground, clothing, chairs, open windows and footprints. We recognize these bits and pieces of daily life as our own.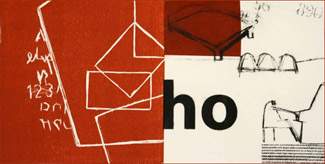 Not only do Murias' pieces represent a melancholic account of what has been, but they also hold a promise of what will be. The past and the future coexist effortlessly in a pool of muted, soft colors intentionally crisscrossed by lines and letters. Her ability to capture the mood of the city is apparent in every print, every canvas. Murias endows her work with emotion and honesty. It is empty of gimmick, succinct on the surface but heavy with the weight of memories and time.
Murias is a well known and broadly collected artist who lives and works in Madrid, Spain. Over the years she has been awarded numerous printmaking awards and her work has been exhibited in Spain, Germany, USA, Belgium, Brazil, Canada and France.


QUICK PORTRAIT OF THE NEW ART COLLECTOR
According to recent data released by the National Endowment for the arts, general participation in art related events has been severely reduced. During 2008, most art forms saw a decline in the number of patrons supporting performances or exhibits. The general population that actually took part in such events also appeared to be aging, a trend that has shown an apparent streak of apathy about the arts in younger generations.
Most surprisingly, well educated Americans are shying away from the art scene these days and collectors, both young and old, have also shown restrain in their purchasing habits. Evidently, the survey was performed during the worst economic crisis endured by Americans since the 1930's and this factor unequivocally tainted the results. Nevertheless, the amount of disposable income in the average American household has shrunk dramatically and for most people, buying art has tumbled to a very low position in the list of priorities.
So who is buying artwork these days? What does the average collector look like under these conditions? Well, since collecting is more about who you are rather than what you actually collect, it all depends on what your reaction to the crisis has been. The drive to collect does not disappear so easily and for many collectors this has been a process of adaptation rather than an abrupt extinction. READ MORE
ArtHaus66 Gallery Newsletter Volume 3
INTO THE LIGHT...
The clouds seem to be moving on and a sliver of sunlight is coming through my window. March has arrived after quite a tumultuous February and it's still too early to tell if this will be a kinder month.
Just a few minutes ago I heard on the news how the massive Chilean earthquake managed to ever so slightly shift the axis of the Earth. In a much less tragic and heartbreaking way, ARCOmadrid resulted in an undeniable alteration of a different kind of landscape: the global art market. READ MORE

LUIS CASTELO: PHOTOGRAPHY AS SANCTUARY
Growing up in the clean, crisp landscapes of Castilla, Castelo became fascinated with the natural world. In these parts, the air is cold and cuts like a knife and days are long and luminous. He must have spent a great deal of his time inspecting the grassy fields that abound in this area of the country. Plants, reptiles, birds, shells and stones all became his muses and now take center stage in the photographic work of this artist.
The clarity of vision evident in his photographs must have come from that light and those windswept fields. Castelo's images are clean to the point of appearing translucent. There's a depth, an insight that has no affectation or gimmick.
Luis Castelo is a master in capturing the spirit of these subjects. He photographs them at their most beautiful in a timeless space that resembles a crystal dome. A place impervious to change and decay. A place were astonishing beauty rules. Are these furtive glimpses of things that have been or perhaps hints of things that will be? READ MORE

LOVE AND THE ART OF COLLECTING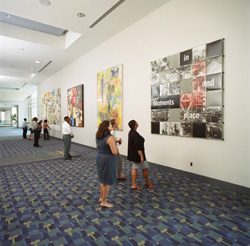 While the same rules apply for collecting pretty much anything you can think of, collecting fine art seems to be the cause of some trepidation among neophytes. The truth is that collecting in general is an enjoyable journey of discovery and learning.
The myth of prior knowledge that discourages many novice collectors is a misleading notion. You should not feel that you lack the expertise needed to successfully put a collection together. That will come in time and it will grow as your collection expands.
John Lennon said it best: "All you need is love"...and in the world of collecting this is the very first and most important requirement. A deep love for the object itself be it a quilt, a vase or a painting, should always be the starting point of a collection. READ MORE
ArtHaus66 Gallery Newsletter Volume 2
FORWARD...ALWAYS FORWARD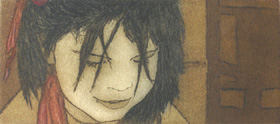 It is a rainy day when I sit to write these lines. A perfect day to submerge myself in the work at hand: bringing to you some bits of interesting information about ArtHaus66 Contemporary gallery, our artists and the art world at large. It is, I must confess, quite a daunting task considering the many news, the vast amount of talent and the limited space I have to juggle.
This is Volume II of our newsletter and I am so happy to introduce to you the work of Pablo Casado. Those of you out there who understand and appreciate personal, straightforward, elegant artwork will find Casado's work extraordinarily compelling. Casado, considered by some an enfant terrible of contemporary Spanish art, possesses the ability to move between the irreverent and the sacred with ease and flair. Some of his work is quiet and refined. Some of it is sharp and bittersweet. Regardless, it is all beautiful. READ MORE
PABLO CASADO: SOMEONE TO WATCH OVER US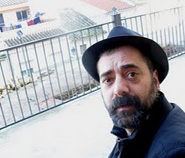 Pablo Casado was born in 1968 in the northern city of Burgos. This is an area of Spain in which climatic extremes are endured by people endowed with uncommon resilience and a no nonsense approach to life. Perhaps this is the source of the solidity, the sincerity that permeates Casado's work regardless of subject matter or chosen medium.
His interests span a variety of techniques that he seems to feel perfectly comfortable with: aquatint, silkscreen, collage, painting and even photography. His themes are also exceptionally diverse from very candid self portraits, to adorable portraits of children, furtive snapshots of city dogs and cats and the most engaging, tantalizing of abstraction. READ MORE
ARCOmadrid: INTERNATIONAL CONTEMPORARY ART FAIR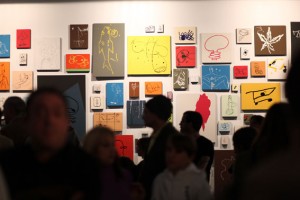 ARCOmadrid was officially presented in public today at MNCARS in Madrid. The act was chaired by Luis Eduardo Cortés, president of IFEMA's Executive Committee, Fermín Lucas, director general of IFEMA and Lourdes Fernández, director of ARCOmadrid.
La Feria de Madrid is holding the 29th International Contemporary Art Fair, ARCOmadrid_2010, from February 17th to 21st, making it once again the opening event in the international art fair calendar. This year the fair is hosting a total of 227 galleries from 25 countries and around three thousand artists with work covering all the current trends visible in the art world today.
This year ARCOmadrid throws a special spotlight on its invitational programme, featuring a city for the very first time instead of a country. The focus this year is on Los Angeles, chosen because of its vitality and multiculturalism and its specific weight as one of the world's art capitals. READ MORE
ArtHaus66 Gallery Newsletter Volume 1
WAY TO GROW...
Happy New Year everyone and welcome to Vol. 1 of ArtHaus66 Contemporary Gallery Newsletter. I wish I could entice you to continue reading with calculated over-the-top promises of wealth, love and weight loss for the coming year, but I will have to settle for some fascinating Spanish artists and very cool news. READ MORE
JAVIER ALBAR: BEYOND THE MERE SURFACE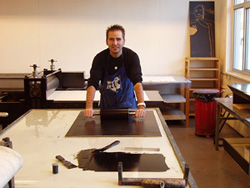 Javier Albar (b.1969) discovers xylography while taking a workshop at Brita Prinz Gallery. This is a technique which allows him to make his much anticipated transition from architecture to graphic design. In printmaking he finally finds the freedom of expression that he had been seeking for a long time.
In the initial phase of this transition, he works the wood in a different way from most other artists. He designs and draws his images as if they were architectural plans on transparent paper. The results are beautiful, yet surprising to him as well as his teachers and peers. READ MORE
ARTISTS AND THE ECONOMIC CRISIS by Bob Quick
The image of a "struggling artist" has become a reality for artists around the country in the ongoing economic recession, according to the findings of a recent national survey — and given there are more than 2.5 million working artists in the U.S., according to the U.S. Census Bureau, that's a serious matter.
Artists, including those in Santa Fe, are seeing their income drop, forcing many to find other jobs to support themselves. Many artists report they are unable to pay the high cost of medical insurance and are afraid of losing the coverage they have. READ MORE
Previous Exhibitions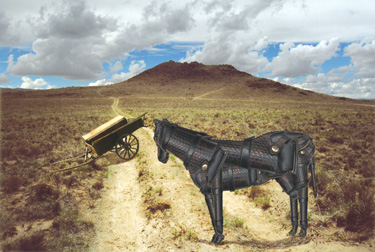 New Works by Laurel Lampela
December First Friday Reception
Friday December 4 th | 5 to 9 pm
Also Featuring Works by:
Susana Murias
Moises Yagues
Eva Poyato
Diego Fermin
Juan Pablo Villalpando
Pablo Casado
Andres Delgado
Javier Albar
Maria Calzadilla
Sofia Basterra
Nefario Monzon
Elena Jimenez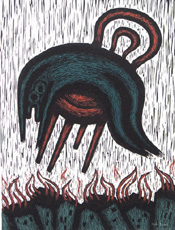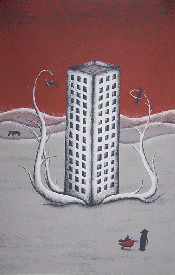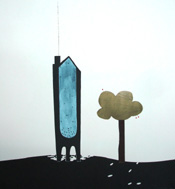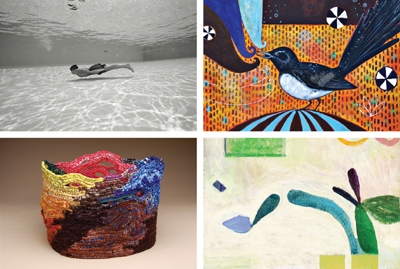 Times of Transformation: Villeneuve, Melhop, Kornblum, Barkalow
June - July 2009

The work of our featured artists is, in one way or another, a study on transformation. Their perceptions are as varied as their styles, but they all keenly observe the impact of change within and around us.

In Joie Villeneuve's work, birds and lotus blossoms are symbols of rebirth and life's power of renewal. They perfectly exemplify a kind of subtle, cyclical change that is infused with hope and promise. Birds migrate as the seasons change and, although seemingly identical to our eyes, the following season invariably brings us new songs and different blossoms.

Louisa Barkalow's exuberant gardens also change in many delicate but unshakable ways. Colors bounce off each other. Shapes tilt precariously. Lines curve and bend as if blown by the wind. They represent evidence of the ebb and flow that is part of all livings things.

The thoughtless disposal of items such as plastic bags or bottle caps inspires Julie Kornblum to create her artwork. Excessive waste, which also transforms our environment, becomes under her tutelage not only useful but beautiful as well. Kornblum facilitates a rebirth for garbage into striking objects of exquisite sturdiness. Water is the quintessential ever-changing element. As a stream flows, it transforms with every passing second never to be the same again.

Frances Melhop's images possess the pulsating beauty of an underwater realm in constant motion. The weightlessness of the figures conveys silence and peaceful introspection, while water and light join in a captivating dance.

These are indeed times of renewal and adaptation. Transformation is as unstoppable as time itself and even within our little amber orbs we are, right at this very moment, changing.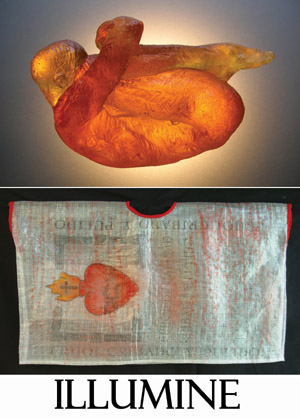 ILLUMINE: Lena Bartula & Karen Wight
April 4 - April 24
Illumine is an astonishing tour de force by two artists who come together to create an installation never seen before in Albuquerque.

Lena Bartula contributes a series of beautifully crafted huipiles fashioned from the most disparate materials: recycled bags from corn or beans, market bags, lottery posters, oilcloth, found fabrics, bandanas, ribbons and even prayer flags. These sculptures shed light on the universal issue of women's rights and they give voice, with their seemingly mundane yet imposing presence, to the millions of women who lead a life of inequality and discrimination.

Karen Wight opts for a more classical approach to illustrating the plea of human existence. The human body has become the primary focus of her artwork as the vehicle that she uses to convey not only its resilience, but also its malleability and ever changing nature. Her resin sculptures of both female and male bodies, not only capture light as it pierces them, but they also smolder with a lovely amber glow that brings peace to the mind. A primeval sense of wellbeing radiates from these thriving, confident, archetypal bodies as they remain still, illuminated, while personifying possibilities and hope.

In combination, Bartula's and Wight's work creates a dynamic dialogue between interior and exterior spaces. The hidden and the open. Surface and essence. Opposites that become meaningless without each other's existence.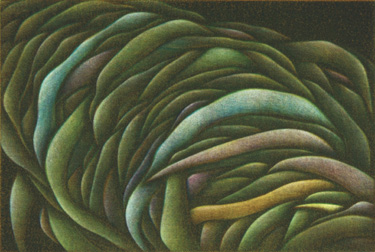 Self Evident:
Carol Sanchez
Paige Williams
Ali Gallo

February 28 - March 22
An amusing yet unexpected sense of familiarity emerges from the work of the three artists converging in the current exhibition titled Self Evident.

A local, well known and well loved artist, Carol Sanchez brings to ArtHaus66 Gallery some of her intriguing mezzotints as well as her new sculptural work. Hers is a world of close up views and magnified beauty. Her images allow us to experience an unprecedented degree of intimacy with the many burgeoning, blossoming and pulsating forms in her prints.

Paige Williams is an Associate Professor of Painting at the Art Academy of Cincinnati, Ohio. Her approach to painting has yielded a series of colorful and deceptively effortless panels. Williams has centered her exploration around the use of a more unconventional medium: latex paint. She applies it directly on wood panel creating large areas of flat color that she juxtaposes with candid, playful shapes.

Ali Gallo prefers to work from a departing point that, for most, could be considered the end rather than the beginning. Gallo finds inspiration in mangled and time worn pieces of scrap metal that she reassembles into magnificent gentle giants. Her sculpture does not only tell a story, but rather has a story that even precedes its creation. She is a collector of endings, broken things and past splendor. With determination, talent and a great deal of strength she infuses new life into the materials and transcends their apparent uselessness to reveal their hidden and true beauty. Gallo also transfers her fascination for the discarded onto her very large paintings on panel.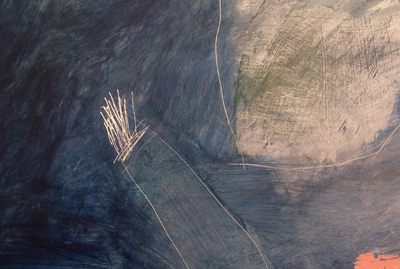 Laura Cobb: New Paintings
December 5 - January 31, 2009
Laura Cobb is an award winning New Mexico painter. Her large acrylic and mixed media paintings on wood push deep into psychological territory blending creativity, passion and emotion with form, line and color. Recently Laura has lived and worked abroad in Germany and traveled throughout Europe studying both modern and classical art.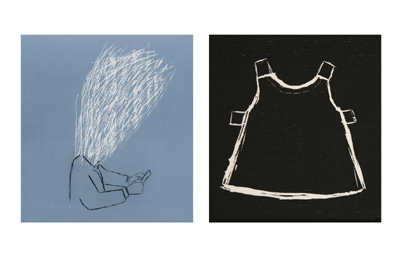 Piedra, Papel, Lienzo y Tijeras: Contemporary Spanish Artists II
November 20 - December 31, 2008

ArtHaus66 Gallery is proud to present its second annual group show exclusively devoted to contemporary Spanish artists. The seven invited artists who collaborate in this project all work and live in the capital city of Madrid. Though some originally come from other parts of Spain, they share the metropolitan surroundings of this big city. Its influence is obvious in most of the pieces included in the exhibition. Whether in urban landscapes or imagined seascapes nostalgically evoked by the artist, the old world appeal of landlocked Madrid permeates each of the creations.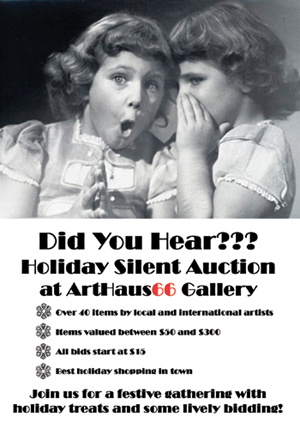 Holiday Silent Auction
Friday, December 5th, 2008
This event is the absolute best place to do your holiday shopping. Enjoy some delicious holiday treats and choose from over 40 one-of-a-kind items that will be available starting at a flat rate of $15. The items donated by our artists range from original paintings, giclee prints, xylographs, drawings, jewelry and 3D constructions. The retail prices of the artwork included in the auction span from $75 to $300. This is an opportunity not to be missed!
September Exhibition


Moises Yagües: The Distance Between us
August 15 - October 15, 2008
The very nature of borders is, in itself, unnatural. Imaginary lines that crisscross the surface of the planet creating a mosaic of countries large and small. Arbitrary boundaries that divide, contain and segregate people who believe themselves to be different from their neighbors. Spanish artist
Moises Yagües approaches this very controversial issue with a great deal of compassion and a good dose of irony. In his xylographs Yagües depicts the desperate journeys of thousands of men and women who risk everything in search of a better life. Using an archetypal border Yagües presents crossings of every imaginable fashion: by raft, by means of underground tunnels, through pipes, drains and even labyrinths. Nothing can stop the influx of the impoverished masses.
Moises Yagües (1972) was born in Murcia, in Southeastern Spain. He is a master printer and one of the founders of La Persiana Naranja, a premier printmaking studio in Murcia. He has exhibited his work in Spain, Italy and Germany. The body of work now exhibited at ArtHaus66 Gallery was created in collaboration with Amnesty International.
July - August Exhibition


Julie Maren: Pageantry and the Inanimate Forest
ArtHaus66 is pleased to bring to New Mexico the stunning paintings of Julie Maren. These large scale paintings offer a furtive view of the secret life of animals in an otherwise inert world. The canvases are populated by very diverse creatures that elicit from the viewer an intense emotional reaction that ranges from apprehension to melancholy.
Julie Maren's Statement About the Work:
Pageantry is a work in progress. Essentially, this series explores the relationship of morality and nature, in harmony and in conflict, through the ambiguous lens of my Catholic upbringing. For me, this narrative continues to evolve and requires further exploration. For the viewer, I encourage his own feelings and interpretations. My personal influences for this work include the films of Ingmar Bergman, Victorian naturalists and subsequent issues between science and religion as well as my work as a textile designer.
May - June Exhibition


Travesia Poetica: Contemporary Spanish Artists
Gallery visitors unacquainted with Spain's contemporary art scene will surely be intrigued and delighted by Travesia Poetica: Artistas Contemporaneos Espanoles. This exhibit at ARTHAUS66 offers a remarkable view of the current state of affairs in Spanish art and forecasts its latest trends and ideas through the work of some very talented young artists.
Travesia Poetica provides a comprehensive and coherent view of contemporary art in Spain. It is the first installment of a series of shows focused on Spanish artists that will take place at ARTHAUS66 every six months. The collaborating artists come from many different cities: Palencia, Madrid, Zaragoza, Murcia, Barcelona, Burgos, Valencia…This rich medley accurately represents the diversity of cultures and languages that construct modern day Spain. The astonishing variety of tendencies and techniques present in the exhibit, also convey the extraordinary artistic curiosity and freedom that permeates their environment. Photography, painting, drawing and printmaking all find a place in Spain's fertile artistic landscape.